Research Achievements Recognized at Health Services Research Day
---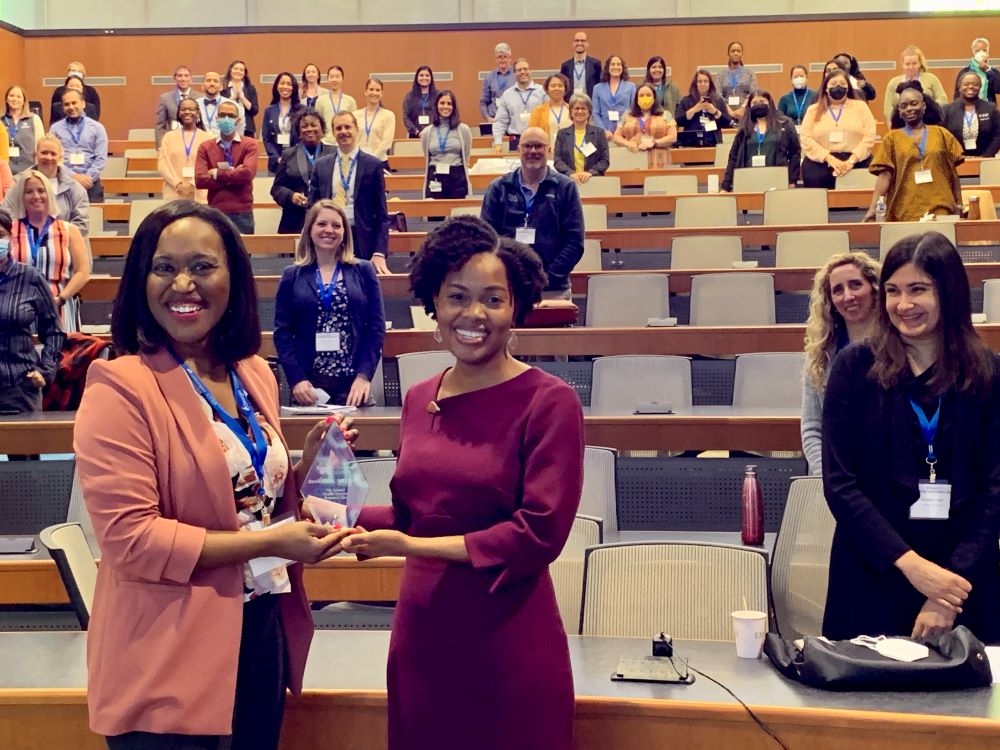 Georgia CTSA and Emory Health Services Research Center were excited to host over 160 researchers for the 9th Annual Health Services Research Day at Emory School of Medicine. During this symposium and networking opportunity, researchers across Georgia learned about ongoing quality, effectiveness, and value-based research activities.
"It was a privilege to serve as the planning committee chair for this year's Health Services Research Day. The caliber of the invited and selected speakers was exceptional, hailing from diverse institutions such as Kaiser, Emory, Georgia Tech, University of Georgia, Morehouse, and the American Cancer Society," remarks Ilana Graetz, PhD, Associate Professor, Health Policy and Management, Rollins School of Public Health. "Their presentations covered a broad range of health services research topics, including social injustice, mental health, and health policy's impact on cancer survival and palliative care."
The event showcased the latest research during featured talks, oral abstracts, and poster sessions. Georgia CTSA Community Engagement Core Director Tabia Henry Akintobi, PhD, MPH, Professor and Chair of Community Health and Preventive Medicine, Associate Dean of Community Engagement, Principal Investigator of Prevention Research Center, Director of Evaluation and Institutional Assessment, Morehouse School of Medicine, who delivered the featured talk, 'Advance Equity-Driven Health Services Research in the Wake of COVID-19', shares, "This convening was an opportunity to introduce to some and remind others of the importance of establishing an equity-driven health services research agenda to advance our collective efforts to address health disparities and health inequities - the systems, contexts, and structures that help to explain why disparities exist. At the center of our efforts must be the art and science of effective patient and community engagement through which we must establish trust, address priorities and work to remove healthcare barriers associated with access to optimal health for all."
This year's keynote presentation featured an innovative discussion on Social (In)Justice and Mental Health delivered by speaker Ruth Shim, MD, MPH, Luke & Grace Kim Professor in Cultural Psychiatry, Department of Psychiatry & Behavioral Sciences, Associate Dean of Diverse and Inclusive Education, University of California, Davis School. Awards were presented for the best oral abstract and poster presentations. Outstanding Oral Presentation was awarded to Meron Siira, MPH, Research Projects Manager, Department of Dermatology, Emory School of Medicine, 'Covid-19 Vaccine Initiation and Completion in Transgender Persons and Cisgender Persons'.
"It was such a pleasure to present our project at Health Services Research Day and see other amazing work focused on the foundational principle of health equity. My presentation shed some light on the unique challenges faced by transgender persons and others with intersecting identities when accessing and utilizing healthcare, including vaccinations. Work around vaccine uptake will be important for guiding public health policies and practices that are targeted to reduce disparities. I'm excited to continue working on this project and presenting additional results in the future," says Meron Siira, MPH, Research Projects Manager, Department of Dermatology, Emory School of Medicine.
Poster Presentation Winners
First Place

Xin Hu, BS, Graduate Student, Emory University, Rollins School of Public Health, 'Vertical Integration of Oncologists and Use of Immunotherapy for Metastatic Non-Small Cell Lung Cancer'

Second Place

Adriana Ramirez MD, MPH, General Surgeon/Endocrine Surgery Fellow, Emory University, School of Medicine, 'Widening Regional Disparities Among Decreasing Utilization of Parathyroidectomy in Us Dialysis Patients'

Third Place

Roxan Andre, MPH, Senior Research Assistant, Kaiser Permanente Georgia, 'Sonnet: ERC Understanding How Missing Race and Ethnicity Data in Electronic Medical Records Are Addressed in Social Health Care Work'
"Presenting my poster at Health Services Research Day was an amazing experience to not only gather feedback from other HSR researchers but also communicate my research findings with providers, students, and other healthcare professionals," says First Place Poster Presentation Winner Xin Hu, BS, Emory University, Rollins School of Public Health.
Planning committee chair Dr. Graetz adds, "I am grateful to the planning committee members and presenters who devoted their time and effort to ensuring the success of this day. Thanks to this team effort, the 9th Annual Health Services Research Day received the highest number of abstract submissions and attendees to date. I left the event feeling invigorated, inspired, and energized."
Thank you to our planning committee, keynote speaker, featured speakers, staff volunteers, abstract reviewers, and poster judges who helped make this event possible! Learn more about Health Services Research Day.
Share This Story